Seoul is a bustling cosmopolitan South Korean City. It is the home of Korean drama K-Pop, themed cafes and really cool modern technology you don't want to miss. There is also hidden treasures like gold throughout this city. Today, I will share with you my top 5 travel survival tips for navigating Seoul, South Korea.
Best Time to Travel
Before you ever even jump on a plane and start your journey, you need to know which time of year is best. The winter in Seoul is very brutal and lasts from December to February. Summer is also brutally hot and lasts from June to August. The best time to come is either spring which goes from March to May or autumn which is from September to November.
Accommodation
Korea is not as expensive as you may think; it can absolutely be a budget-friendly location. I recommend using Airbnb to get the best bang for your buck. If you have never used Airbnb, please trust me it's not as sketchy as it may sound and it will save you a lot of money.
Transportation
As far as saving money goes, the subway system is the best way to do it in Korea. It's very cheap and you can get basically anywhere or use a bus if you are not in the city center. Never use a taxi if you can help it because it's a great way to throw away money.
Get the T-money Card
When you arrive in Seoul, you'll most likely fly into the Incheon International Airport. Once you make it through customs and immigration you want to either exchange your money or get cash from the ATM, you will need it. Do not worry if you don't know Korean, all the signs have English written on them. Follow the signs to get to the trains. Look for the vending machine that sells the T-money card. You can use this for a lot of things but most importantly it will let you use the trains and the subways. Go to the machines right next to where you picked up the T-money card, click the English option and just follow the steps to put money on your card. You can only recharge them with cash so you need to make sure you have some.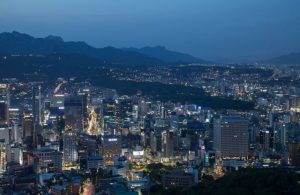 Download KakaoMetro
Use the airport's Wi-Fi to download the app called KakaoMetro. As long as you know which subway station is closest to where you're staying this app will tell you exactly which trains to take and when you'll need to transfer. KakaoMetro is absolutely a cinch when traveling around Seoul. Watch the times when you are planning to use the subway. If you go during the morning or afternoon rush, it will be packed. Also, don't sit in the pink seat on the trains this is for pregnant people. Buses are also a great way to get around. I recommend using Google Maps or KakaoMaps when you are planning to take a trip that needs buses and it'll tell you the exact numbers of the buses you need to take.
Convenience Stores
Another great way to save money is to go to convenience stores. If you have never been to Asia, you may not know this but they have much more for sale than Western countries. You can find almost anything you'll need for your trip out of pretty good price.
Wi-Fi
Wi-Fi is everywhere in Korea as far as phones go. Unless it's essential for you or you'll be there long term you really don't need to get a SIM card for your phone. You'll always be close to a place where you can get connected.